Ehp Labs Blessed Shred Combo
Get the EHPLabs Blessed Shred Combo. This combo contains EHPLabs Blessed Protein 453G (1LB) Oxyshred 60 Serve and EHPLabs Acetyl L-Carnitine 100G.
Feel Blessed! EHPLabs Blessed Protein is a natural single origin plant-based protein is in your hands. The wholesome protein goodness inside this recycled tub contains an unparalleled formulation of the finest 100% sustainable raw ingredients to bless your body.
EHPLabs Blessed Plant Protein features:
High performance plant protein superfood with smooth, delicious flavors that will send your tastebuds to heaven

Pure Golden Yellow Pea Protein Isolate. Unlike other plant-based products, we ONLY include one source of the highest quality pea protein, making it easier for you to digest

Zero artificial additives, sweeteners, grit or enzymes

100% sustainable raw ingredients

3 flavors; Salted Caramel, Choc Coconut & Vanilla Chai

Dairy/lactose free. Whey Proteins are not

Alkalising at pH 7.8 for improved recovery and energy

Comparable amino acid profile including all essential amino acids

Low GI and Low Carb, making it ideal for supporting weight loss

An all-natural great taste
Clear Vegan is EHPLabs' 100% vegan friendly sister brand with a mission to give your body the quality it deserves. Contains ZERO artificial additives, sweeteners, grit or enzymes. Our single origin plant-based protein contains an unparalleled formulation of the finest 100% sustainable raw ingredients to bless your body.
EHPLabs OxyShred has taken the fitness and weight loss world by storm with its amazing taste, efficacious formula and reliable results.EHPLabs OxyShred is a potent thermogenic fat burner. It will take your body to a new level of fat burning called "Hyper-lipolysis". In other words, turbo fat burning. Unlike other fat burners on the market, OxyShred is not a heavy stimulant based thermogenic. OxyShred has been pharmaceutically engineered to switch off your body's "fat memory" the a2 receptors and to stimulate your body's fat burning hormones the ß2-adrenergic receptors to mobilise the existing subcutaneous stubborn fat cells to the mitochondria to be converted into energy in the form of adenosine triphosphate.
EHPLabs OxyShred features:
Limits calorie absorption by the body

May help destroy stubborn fat cells

No jitters or anxiety

Contains mood enhancers

Includes immunity support through Vitamin C and L-Glutamine

Zero carbohydrates, zero sugars, zero fat and zero sodium
OxyShred is the most advanced and potent thermogenic fat burner ever developed. OxyShred induces hyper-lipolysis, which is a complex process of super-efficient and enhanced burning of the subcutaneous fat molecules.
EHPLabs OxyShred helps your body undergo hyper-lipolysis, which speeds up your ability to bust through the stubborn fat hanging around your belly and other areas. OxyShred also includes L-Glutamine and Vitamin C that can improve your immune system. Many other thermogenics do not have these immunity benefits. Finally, OxyShred provides your body with valuable energy that can have you performing your best before, during and after your exercise sessions.
EHP Labs Acetyl L-Carnitine is often used as a fat burner and while it is not as potent as thermogenics (which boost metabolism), Acetyl L-Carnitine makes fat more mobile and better able to enter the fat-burning cells called mitochondria. This "switches on" fat burning so you can burn fat more effectively – especially during exercise. This is why Acetyl L-Carnitine is often added to pre and intra-workout drinks.
What is Acetyl L-Carnitine? It is a naturally occurring amino acid that promotes the transportation of free fatty acids into the mitochondria (core of the cells), where they are burned off as energy. Acetyl L-Carnitine also assists muscle recovery after strenuous exercise and promotes optimal heart and brain function.
EHPlabs wants to ensure that the Acetyl L-Carnitine pharmaceutical quality is maintained, hence, this product has not been artificially flavoured or coloured.
Ehp Labs Acetyl L-Carnitine features:
100% Pure Pharmaceutical grade

Helps mobilises and transports fat to use it for energy

Helps with recovery after workouts

Maximises the effects of OxyShred

Zero stimulants, sugars, carbs and fillers

Due to the products purity contents will be harden inside the container
EHPLabs Blessed Protein:
Container Size: 453G (1Lb)
Serving Size: 1 Scoop
Servings Per Container: 30
EHPLabs OxyShred:
Container Size: 300G
Serving Size: 1 Scoop (5g)
Servings Per Container: 60

Directions:
For optimum results take twice daily - Mix 1 scoop with 10 ounces (295 ml) of chilled water first thing in the morning on an empty stomach, and on training days, consume 15 minutes prior to exercise. Avoid eating or consuming a protein shake within 20 minutes after consumption for maximum absorption.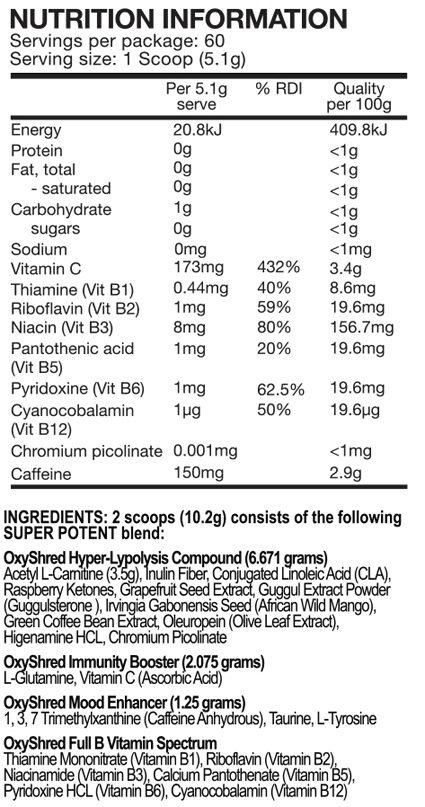 EhpLabs Acetyl L-Carnitine:
Container Size: 100G
Serving Size: 1 Scoop (1g)
Servings Per Container: 100
Directions:
Take 1 to 2 scoops of EHPLabs Acetyl L-Carnitine with 295ml of water, fruit juice or another flavoured beverage of your choice. Do not exceed 5 scoops in one day.
Amount Per Serve:
Calories 0
Calories from fat 0g
Cholesterol
Carbohydrate - total 0g
Protein 0g

Other Ingredients:
100% Pharmaceutical grade Acetyl L-Carnitine
Please Note: Nutritional Information is to be used as a guide only, actual values may differ between flavours and sizes and when formulations are modified or updated by the manufacturer.
Contact us if you have any questions regarding this products ingredients.
All orders $40 and over receive Free* Shipping Nationwide
Estimated Delivery Times*:
Auckland – Overnight (However many Auckland orders are be delivered the same day depending on what time the order is placed)
North Island - Overnight
South Island – Overnight (For larger parcels allow 2 business days)
Same Day/Evening Express Shipping upgrade available at checkout for select suburbs*
Click here to view the full Shipping Details and Returns Policy.
Ehp Labs Blessed Shred Combo Reviews
---