Amazonia Raw Protein Isolate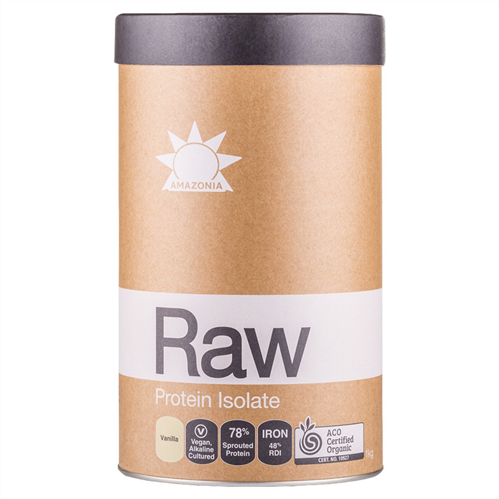 Amazonia's Raw Protein Isolate is the world's first prebiotic protein. Based on years of research, this specific formula feeds good digestive bacteria that breaks down more protein. With a complete amino acid complex and over 80% raw organic protein, never before has a blend been so readily available to be utilised by the body.

Amazonia are the first to supply bio-fermented pea and brown rice protein to the market. With the addition of digestive enzymes, this dairy-free option helps to resolve the current protein powder digestive issues experienced by many. Raw protein is gentle on the digestive system, allowing for optimal absorption and bio-availability.
Whey, a common protein, is a by-product of the heavily processed cheese industry. Amazonia's Raw, live protein contains no whey, making it a powerful, dairy-free option with high levels of readily absorbed nutrients. It is the rawest form of natural protein to come onto the market.
Amazonia Raw Protein Isolate features:
Over 80% raw digestible protein with live enzymes & high levels of BCAA

70 - 30 combination for complete amino acid complex

Vegan & Alkalising, Certified Organic

Low in carbs

Free from wheat, dairy, eggs, soy, GMOs, nuts
Container Size: 500G
Serving Size:
Servings Per Container: 16
Container Size: 1KG
Serving Size:
Servings Per Container: 33
Directions:
Blend 3 rounded tablespoons (30g) into 200ml of water, almond milk, oat milk, rice milk, soy milk, natural juice or smoothie. Due to the raw, organic state of the product, servings may be consumed more frequently depending on desired results.
Ingredients:
Raw Certified Organic Pea Protein Isolate and Raw Certified Organic Whole Brown Rice Isolate (Sprouted, Bio-Fermented), Living-Raw Digestive Enzyme Blend 300mg (Amylase, Protease, Lipase, Lactase, Cellulase). Plant-Based Pectin.
Free Shipping Nationwide:
FREE EXPRESS SHIPPING – NEW ZEALAND WIDE
TRACK AND TRACE TO YOUR FRONT DOOR
Delivery Times
North Island - Overnight
South Island - +1 Business day
(Overnight delivery service available during check out) Rural - +1 Business day from the above times
Orders need to be placed before 3.30pm to make it on the final courier of the day
Click here to view the full Shipping Details and Returns Policy.